Check one, two, three! This is BroadwayCon on the dispatch and we are thrilled to announce our In the Heights 10-year reunion panel, featuring original cast and creatives, and moderated by Luis Miranda!
As you can imagine, we look like this just thinking about it:
Join Lin Manuel-Miranda, Karen Olivo, Alex Lacamoire, and more on Friday, January 26th, as they discuss the show's impact on musical theatre as well as its road to Broadway from Lin's beginnings in Washington Heights…
…all the way through its grand success!
We think this is a big deal (like, you-just-won-the-$96,000-lottery big deal).
And while it's not the fourth of July, it's time to show some freakin' spirit!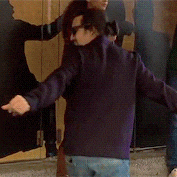 Can you believe this was 10 YEARS AGO?

And THIS TOO?

Remember when they stole the show at the 2008 Tony Awards?

And if you need something to whet your appetite, check out the PBS documentary (available now through December 8th via the PBS website)!
Get your tickets now for the third annual BroadwayCon now and join our "Carnaval Del Barrio" at the intersection of 10th avenue and the Jacob Javits Convention Center (okay, we mean inside the Javits, but just let us make one more In the Heights reference)!